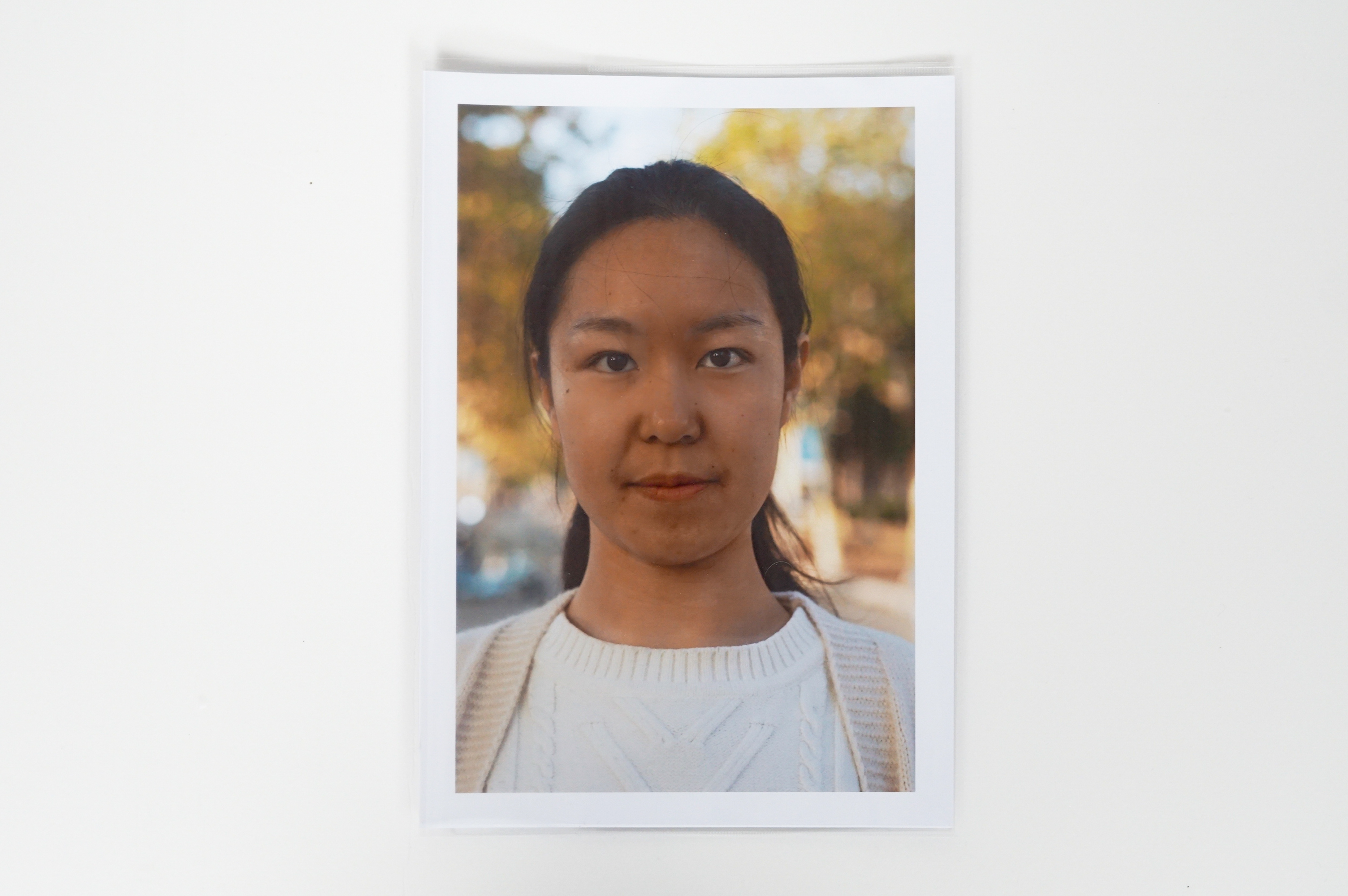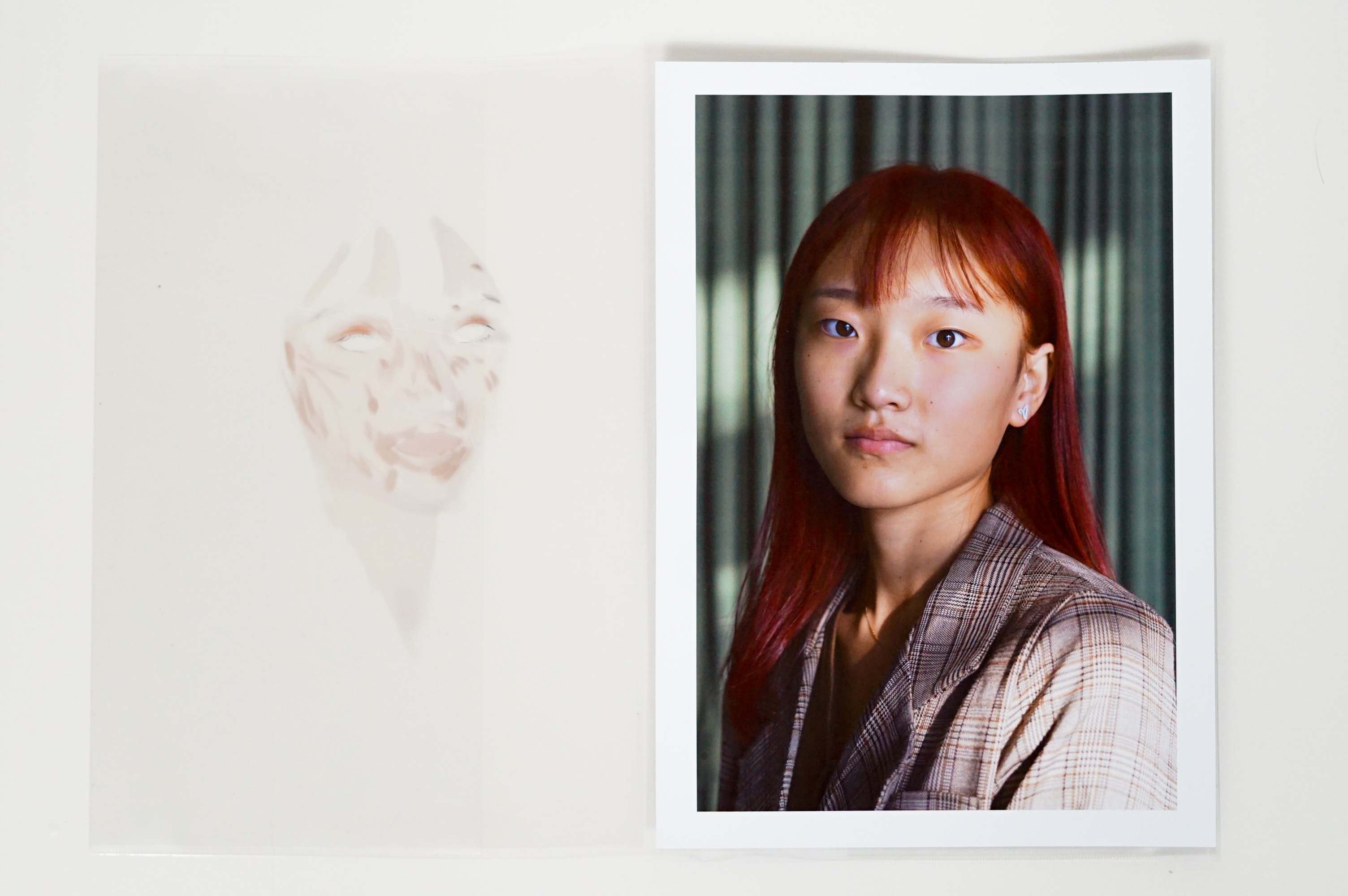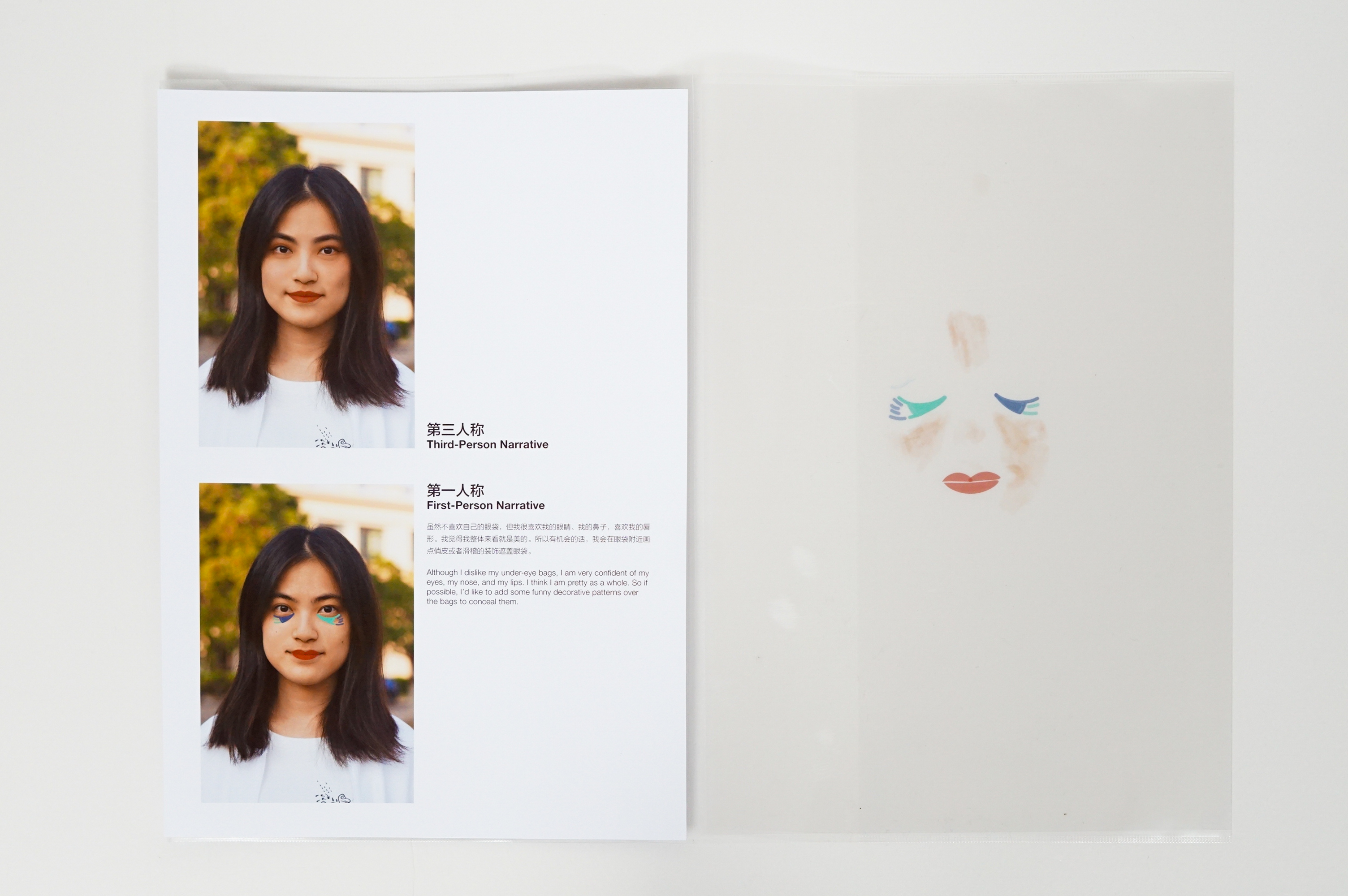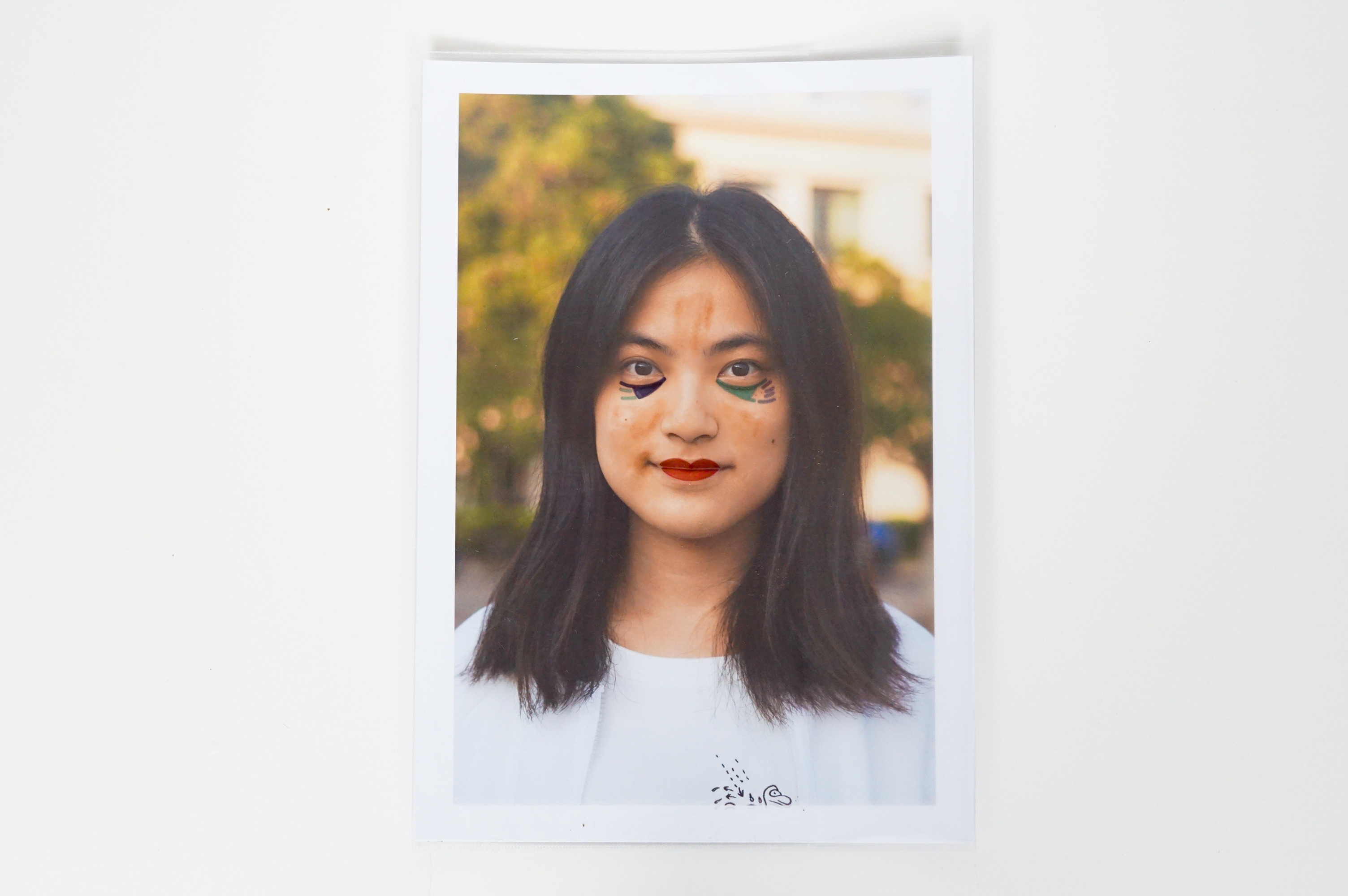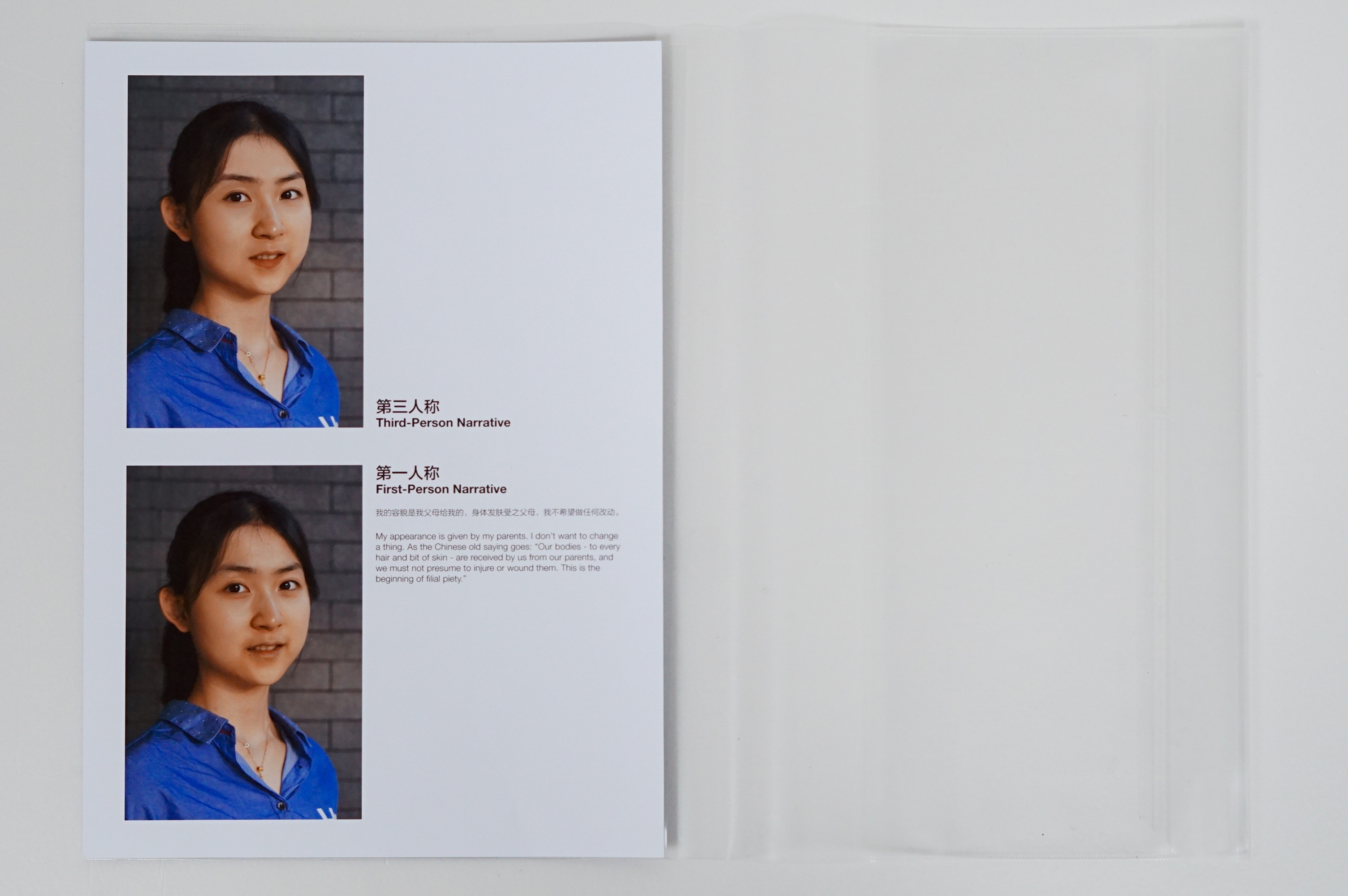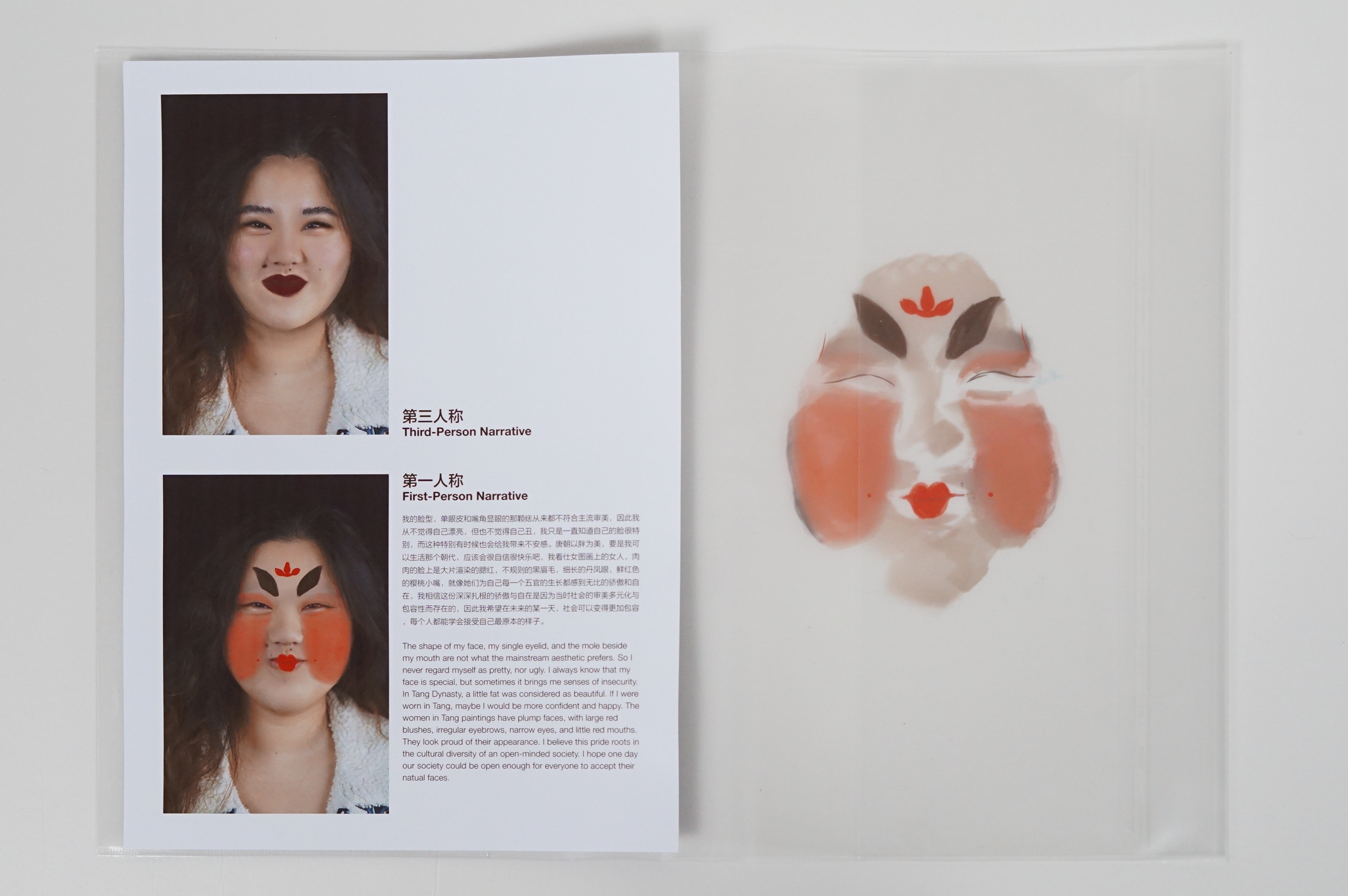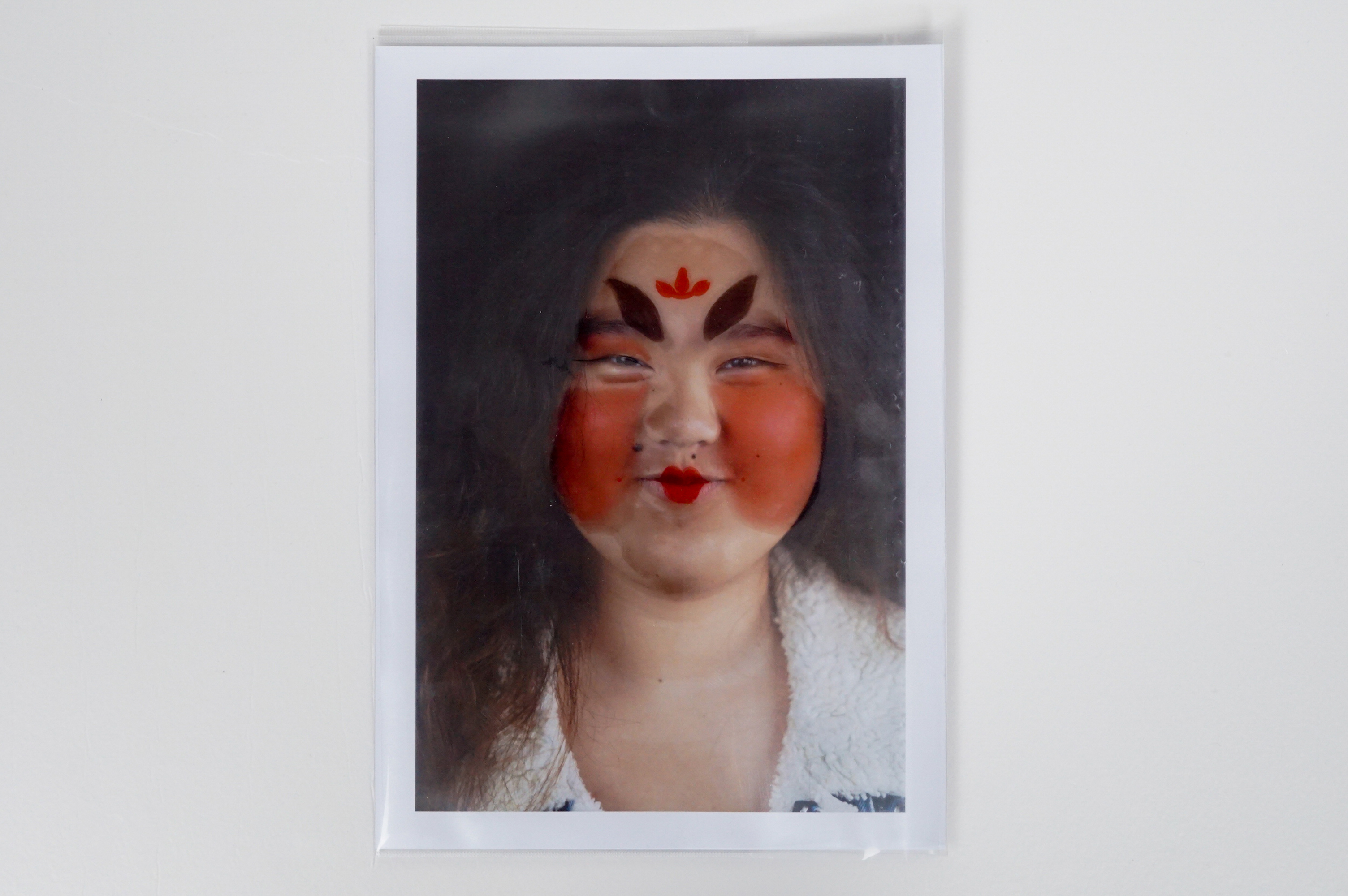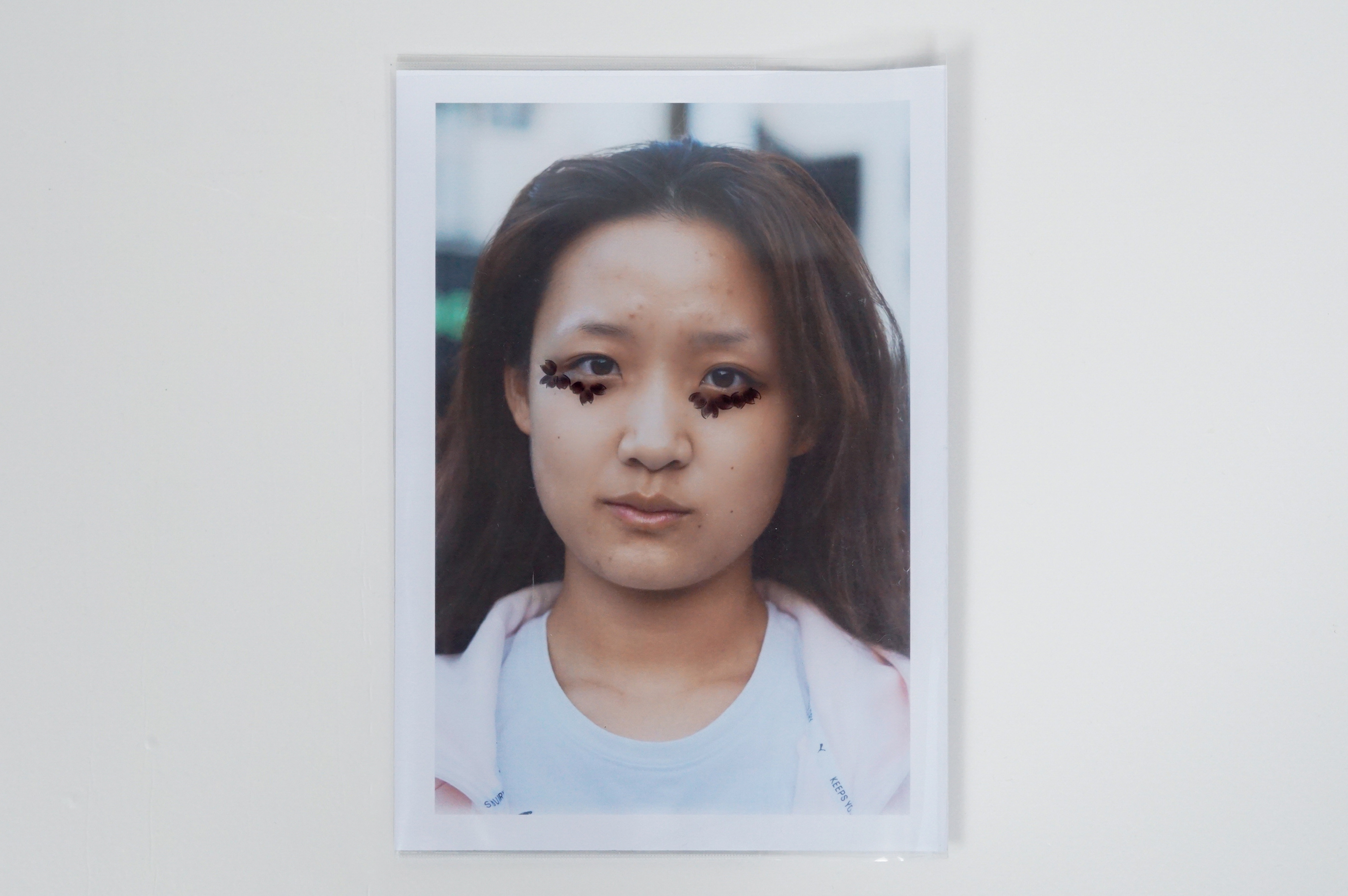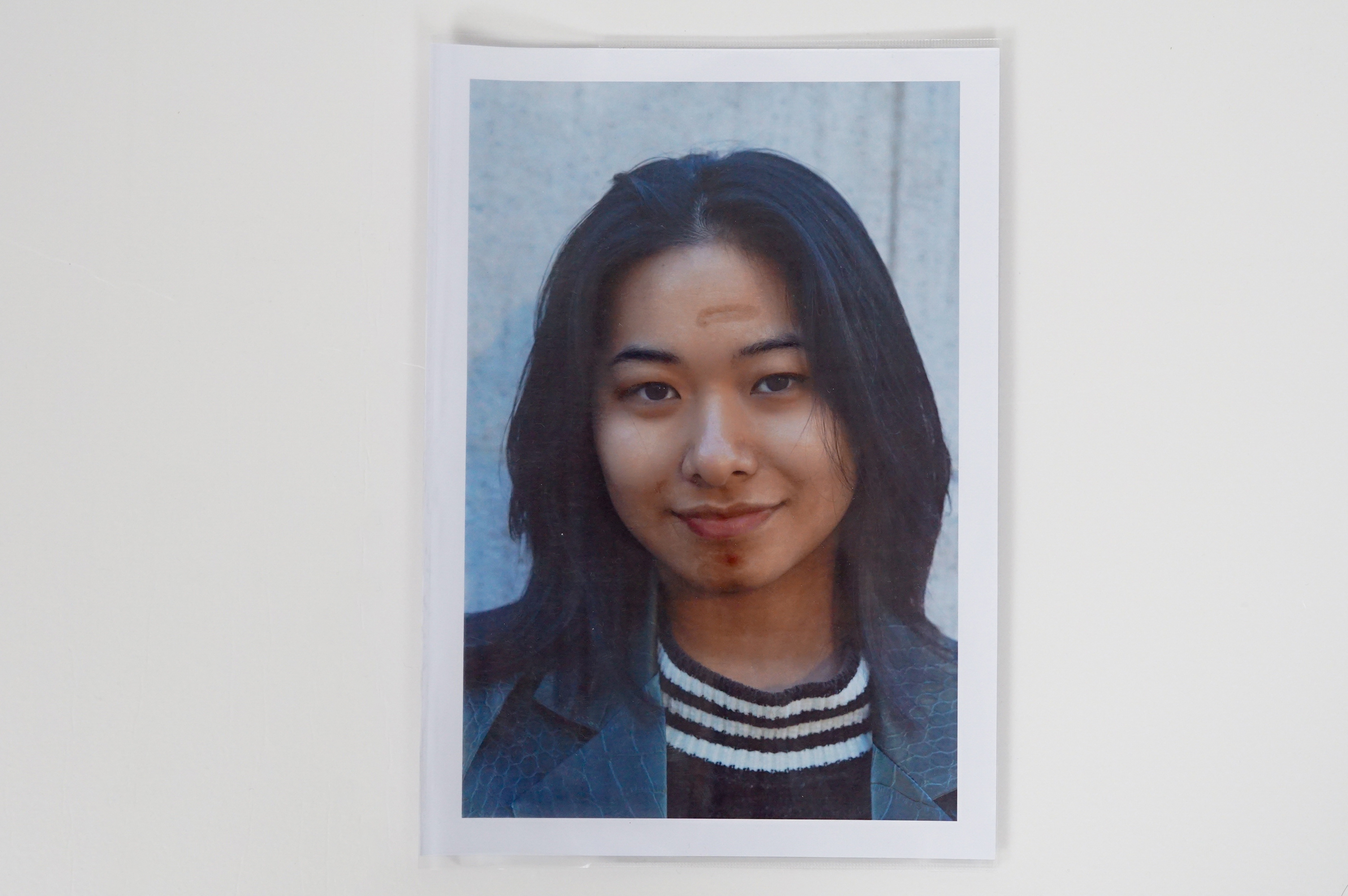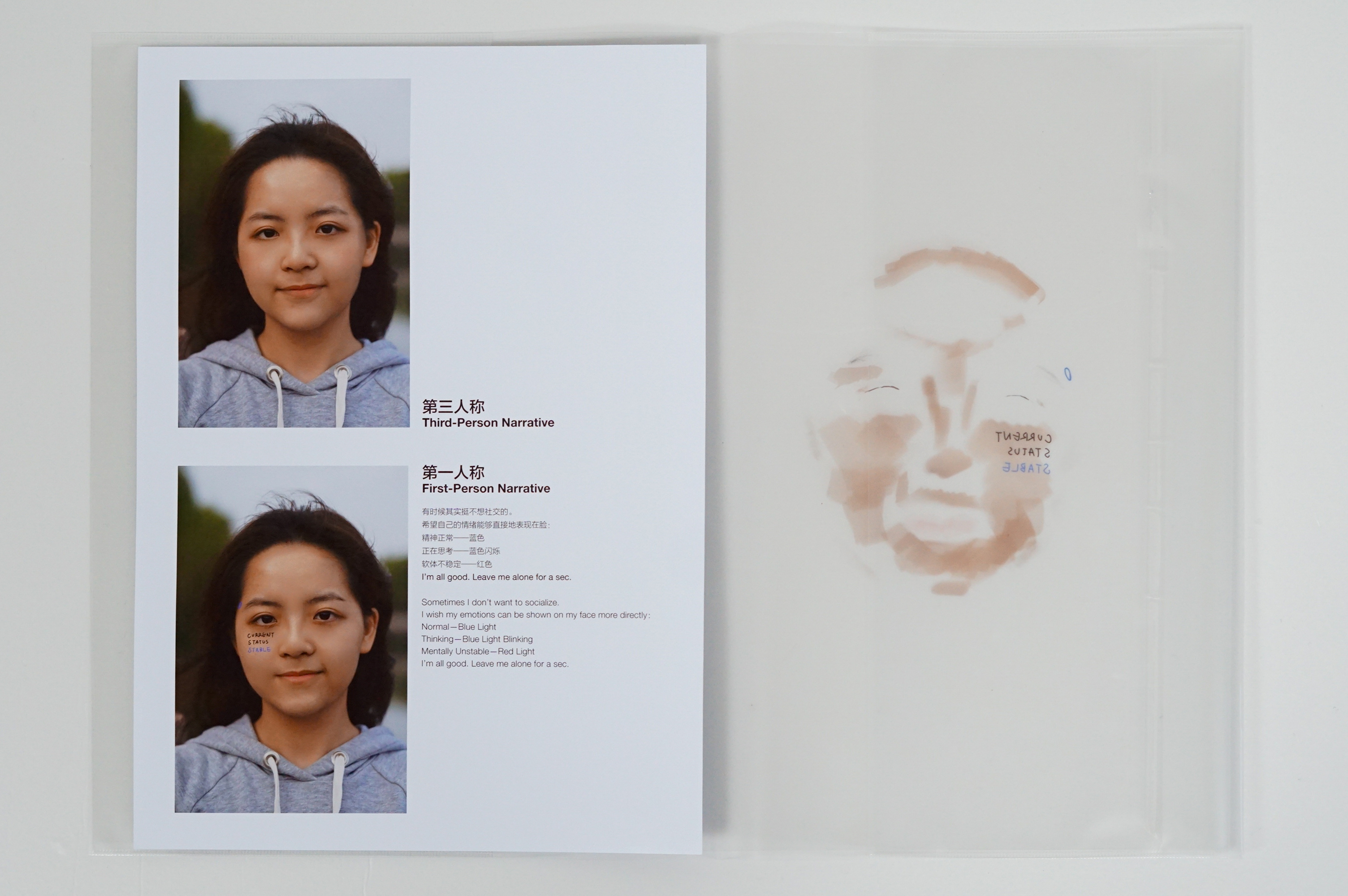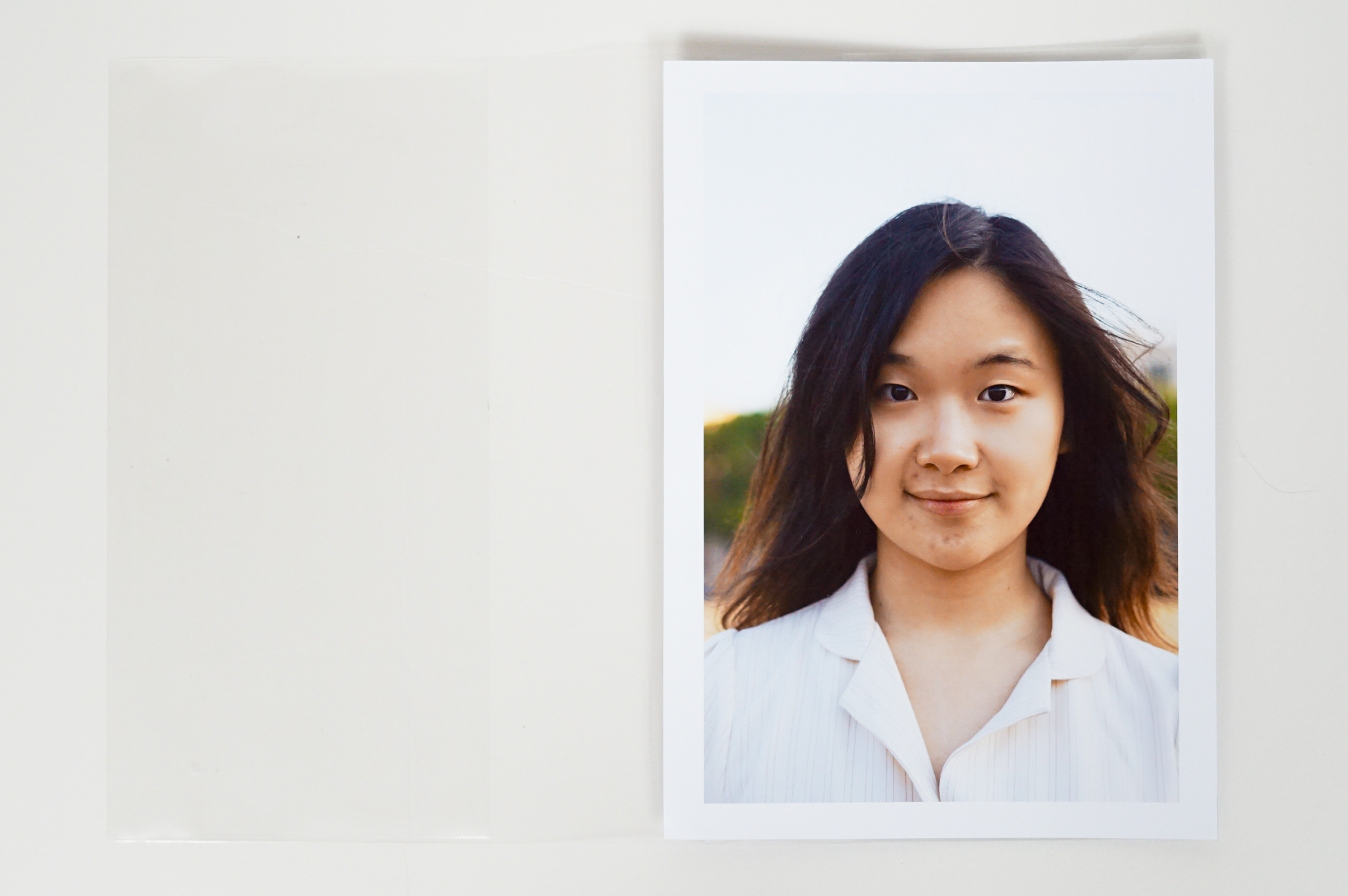 Covers
18 One-Page Books with PET FIlm Covers
29.7 cm x 21 cm x 0.5 cm each
2020

Covers is a collaborative project that examines the internalized social discipline that young women face when they put on makeup.

It seems that wearing makeup has become a social norm exclusively for women. Young women wear makeup almost every day, in order to "look decent" or "show respect for others;" otherwise they are likely to feel inferior or insecure. Sexual objectification theory and Michel Foucault's disciplinary power theory both imply the similar disciplining process: recognizing the gaze, women start to scrutinize their images and thus begin self-disciplining. Therefore, often when a woman looks at herself, she is employing the third-person narrative, rather than the first.

In this project, I took makeup-free portraits for young women and invited them to draw two looks on the photos. One is from the third-person narrative, the way they think others will appreciate; the other is from the first-person narrative, which celebrates their personal traits with admiration and pride. Each person's images form a book. The two looks she painted are printed on transparent PET films as the covers, showing the traces of labor of her self-transformation. Inside the book is a page that contains the makeup-free portrait, as well as the intended makeup effect and the story behind the first-person narrative look. As the audience flips back and forth to see their natural faces and read the texts, they make an effort to get to know the person, instead of judging them by the covers. The project visualizes these young women's self-discipline and encourages more diverse and more positive perspectives to admire the natural beauty of ourselves and that of one another.

Covers
18本一页书,封面为pet胶片
29.7 cm x 21 cm x 0.5 cm
2020

Covers是一个协作项目,旨在探讨年轻女性在化妆时面临的社会规训和自我规训。

化妆貌似是女生的必修课。每一天上课、上班,好像必须化妆才显得"得体","尊重",而素颜反倒让人感到"不够好"、"不安全"、"不入流"。好像化妆这个举动,已经是女性的社会规范。物化理论和福柯的权力观念都阐释了相似的规训过程:社会化过程逐渐使女性内化了他人的凝视,接受了规则,然后开始了自我规训。于是当一位女性看自己的形象,脑海中的叙述总是第三人称,而非第一人称。

在此项目中,我为多位女孩拍下素颜特写,请她们在素颜照上画两个妆:一个是第三人称的,别人觉得好看的自己。另一个是第一人称的,强调自己独特的身体特质和内在特质,以积极的角度重新观察自己的"瑕疵",或讲述自己的故事。此项目以一人一册书本的形式呈现,女孩们画妆的痕迹被印在透明PET胶片纸上作为书本的外皮,包裹着一页素颜照、妆效图和第一人称妆面的故事。观众在翻阅时需前后翻动才能看到女孩们素颜的真实状态,费一些功夫才能了解她们容貌下的内心。此项目将自我规训可视化,鼓励女孩们看待自己时更理直气壮地从第一人称出发。同时,此项目也呼吁以更多元的眼光欣赏不一样的自然美。





A BIG thank you to every girl who participated in COVERS: Wu Luxi, Cao Shuning, Li Ziwei, Xu Jialu, Li Jing, Zheng Shuning, Chen Yulu, Gao Yaping, Li Yufei, Li Xingting, Zhang Youning, Sun Yicun, Liu Yixuan, Liu Xinyi, Guan Chengqing, Xu Chenyu, Yu Duoer, Li Xiang, Liu Siteng, Manyi Chen, etc.