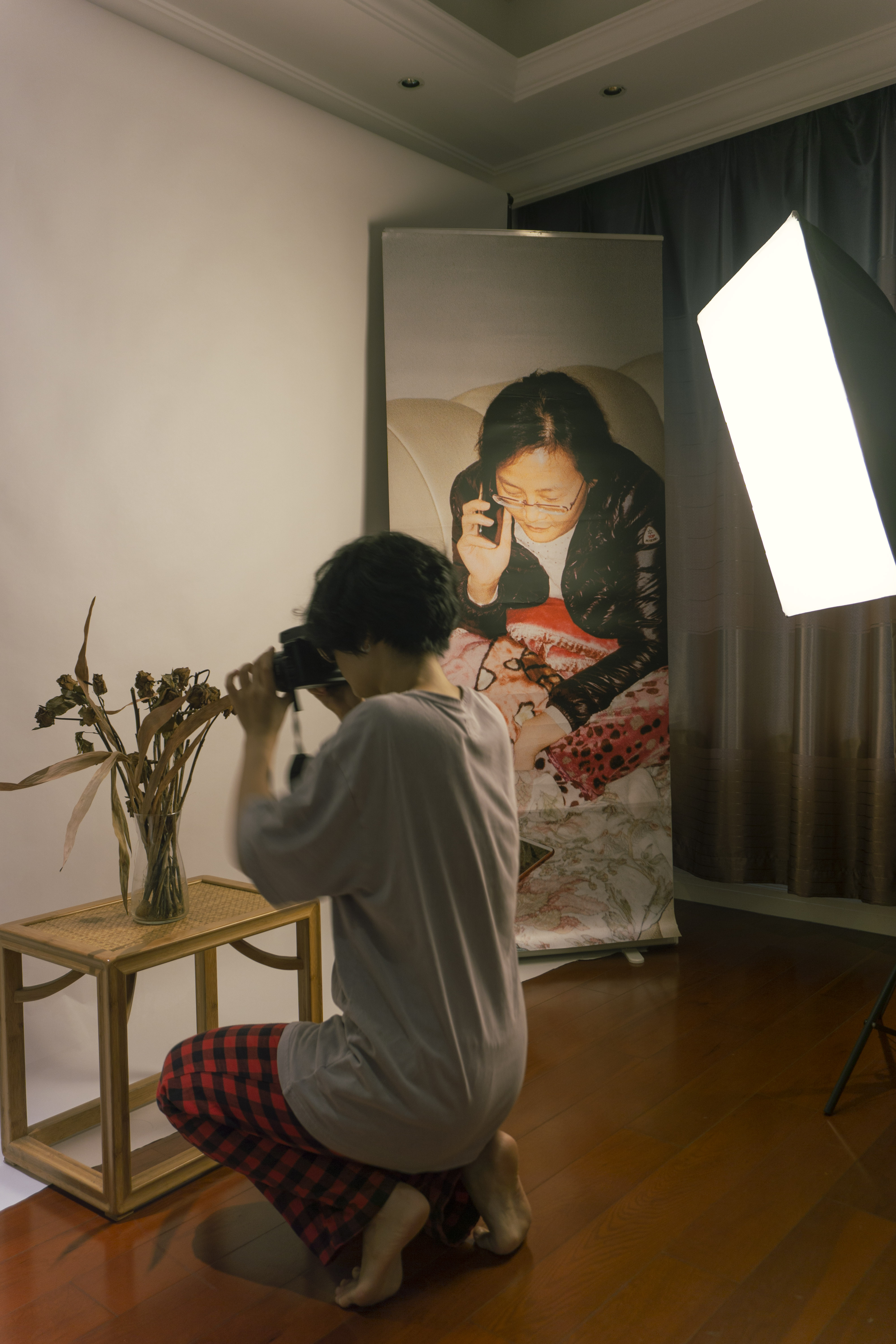 At Home with My Family
Photography (installation)
Size changeable
2020

This is a photography series of I living with the life-size photo prints of my parents. Through manipulating their images, I gained a temporal dominance over our relationship. This is my compromised reconciliation with my parents and my exploration of photography as a tool of power.

Due to the Covid-19, for four months I was stuck in a quarantine at my hometown with my parents, with whom I have a complex and mainly disheartening relationship. Taking photos of them was the only time I could look at them without emotional burdens. After I returned to Shanghai, I printed these photos at life-size and made them fit into my place. Through photography, the space between my two homes overlaps, and I created a new scenario where I could live with my parents in harmony.

When taking photos of my parents, I discovered the power of making photos: I was invading their life and narrating for them. Whereas manipulating their printed photos into a new narrative made me capable of developing something new in our relationship. Through photographing, gazing, and re-photographing, I temporarily became the one who defines and dominates our relationship. Finally, I get to see my parents being quietly supportive instead of manipulative and judgmental, just for once.
与家人在家
摄影(装置)
尺寸可变
2020

在这组照片里,我把父母的照片打印成等身尺寸,与它们一起生活。这是我踏出与父母和解的微小一步,也是我对摄影的权力关系进行的探索。

2020年1-4月,我与父母一同隔离在家,用傻瓜机拍了很多家里的照片。我与家人的关系复杂。拍照时,我意识到,只有拿着相机,我才能没有情绪负担地端详他们。我们已经10年没有这么每天待在一块了,到4月,这样的生活已经让我无法工作,于是我搬到了上海。我将这些照片放大,打印,放在我的新家,与图像一同生活,希望能与父母和平共存。

拍摄原始的照片时,我尝到了制像的权力:我手握呈现形象,构建叙述的机器。而在二次拍摄中,我按我的想法操控打印的图像,为我们的关系构建了全新的图景。通过拍摄、凝视、再拍摄,终于有一次,我能颠覆原有关系里的权力体系,创造出一个默默支持我的家庭环境。