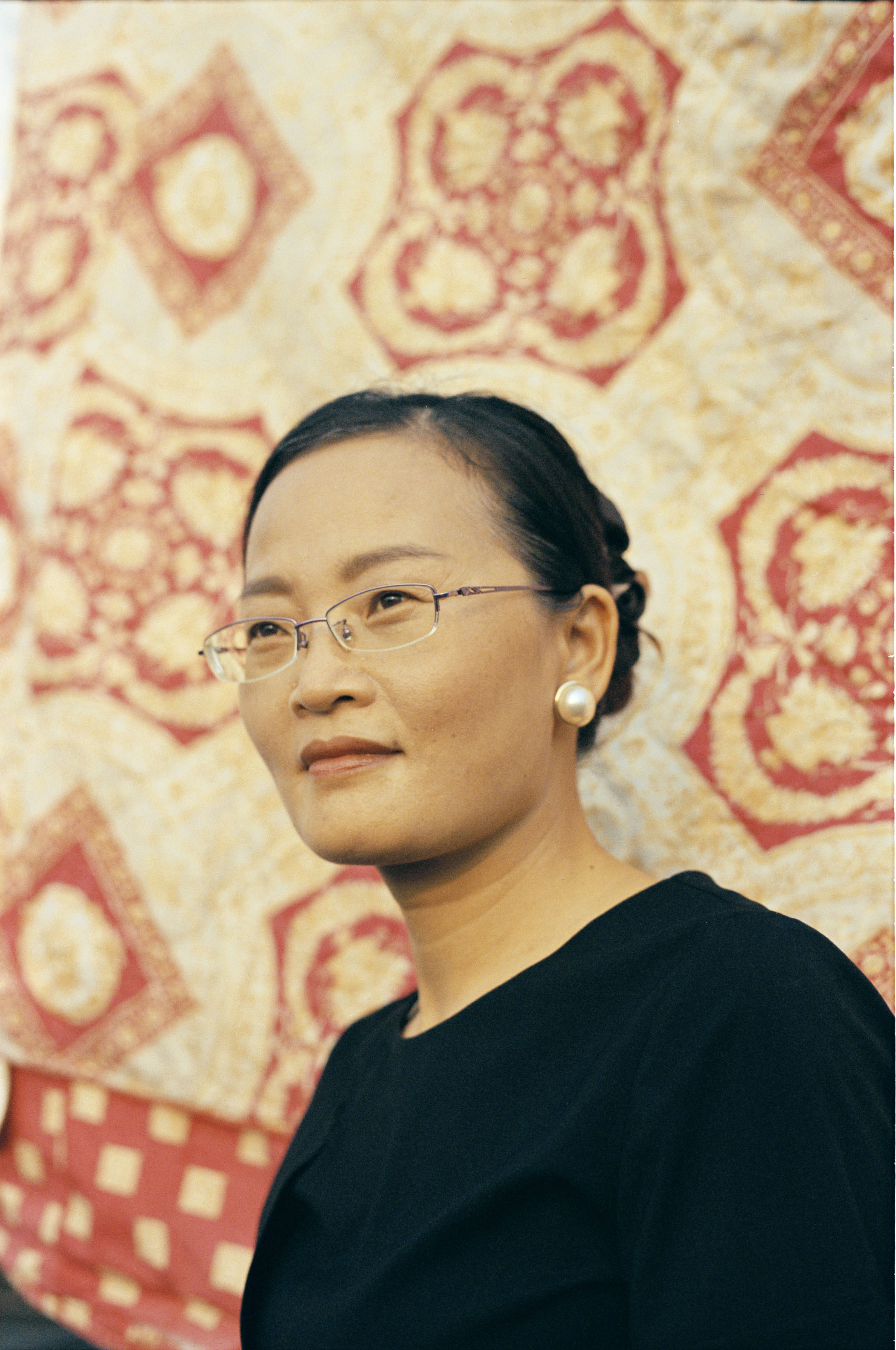 Daughters
2019

On the Mid-Autumn Festival day of 2019, I took photos of my grandma, my ma, and me. The original idea was to get us to wear the same piece of clothes, same necklace, and same earrings. When I pitched this idea to my family, the daughters of my grandma all laughed, as if it was silly and meaningless. Grandma's old and pretty clothes won't fit her, they said. My grandma's dementia was not as bad back then. She was lucid during the photo shoot. It was still boiling hot in Guangdong's September afternoon. I hung a rope on the rooftop and put an old family bedsheet on it, the way we would airdry big piece of laundry. Grandma was shy when I encouraged her to put on the black turtleneck top. I am old, this kind of clothes is not for me, she said. Eventually she came to the rooftop in the clothes and accessory. She sat quietly and solemnly, like a child on the first day of school.

My ma was not really listening to me. She wanted to take beautiful portraits. I had to take quite a few of her with her favourite scarf. She complained about the heat so much that I felt the pressure to end this torture to her faster. In the end I failed to get her into the black turtleneck top, nor the necklace.

My photo was taken by my ma. I didn't have a shutter cable, and my camera would not auto focus. My ma had never used a film SLR camera before. I gave her a brief crashcourse, but when the photos were developed, this was the best photo of me. Perhaps it is an accurate perspective from my ma's, with blurs, mysteries, confusion, misunderstandings, but at least she tried.
女儿们
2019

2019年中秋节,我给外婆、妈妈和我拍了肖像。原本的计划是让我们三人都穿同一件衣服,戴同一条项链,同一副耳环。刚跟大家说出这个想法的时候,外婆的女儿们都笑了,并不当一回事。外婆老了,她不穿你们年轻人的衣服,她们都这样说。当时我外婆的阿兹海默还没那么严重,拍摄时她都很清醒。广东九月下午依然炎热,我用我们家晾大件衣物的方法,在天台上绑了一根绳子,挂上了家里的旧床单。面对这件我挑的黑色高领上衣,外婆很害羞。我老了,不穿这种衣服的,她说。最后她还是穿上了,在女儿们的搀扶下走上天台。在相机面前,她安静沉稳地坐着,像个第一天上学的小孩。

我妈就没这么听话了,她更想拍美照,拿着最爱的彩色丝巾摆拍了很久。她嘴里一直说热,到最后我只想赶紧把她拍完,最后也没让她穿我挑的黑色高领,也没戴珍珠项链。

我的照片是我妈拍的。当时我没有快门线,我的相机也没办法自动对焦。我妈从来没用过胶片单反,我给她简单教了几下,但最后冲洗出来,最好的就是这张了。或许这张照片精准地映照着我妈眼里的我——隔着雾霭、谜团、困惑、和误解,但至少,她有在看我。